General Manufacturing
Manufacturing world class products on a daily basis.
Machining
General and Precision machining, world class quality.
Site Installation
Full site installation services, delivered safely and securely
Fabrication
Highly skilled fabricators & welders, world class products.
Project Management
Strong project management team, world class execution.
Design
Conceptual design, feasibility studies, detail design, stress analysis and production of manufacturing drawings.







Welcome to
North View
Engineering Solutions Ltd
Our highly skilled team of fabricators & machinists can produce almost any assembly or component that you can design. We have an impressive range of equipment & machine tools, enabling us to produce a full range of sizes to cover almost any requirement across a diverse range of industries.
Based from our 30,000 square foot production facility, we specialise in providing specialist machined parts and complex / medium to heavy fabrications and assemblies. We can engineer products from carbon steel, stainless steel or aluminium as well as more specialist materials when required.
We work with our clients in true partnership to deliver practical, cost effective solutions every time.
We are certificated to ISO 9001:2015 and have implemented structures to comply with OHSAS 18001 – Health & Safety & ISO 14001 – Environmental.
North View Engineering Solutions Ltd appreciates its responsibility to health, safety and environmental issues and is committed to achieve industry best practices and zero tolerance. North View Engineering Solutions Ltd recognizes and accepts that concern for the environment is an integral part of the company's business strategy.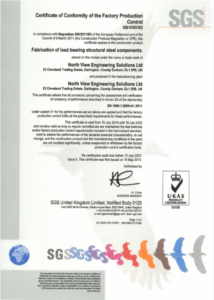 Latest News
Baker Hughes Expects More LNG Approvals in 2021
Baker Hughes Co. expects as many as four LNG projects globally to move to a final investment decision this year....

Read more
Biden Puts US on Path to Rejoining Paris Climate Deal
Biden's flurry of actions drew opposition from industry and, with Paris, even a key Senate Democrat....

Read more
Our Tweets